Salesforce Campaigns: How to Track Your Marketing ROI in Salesforce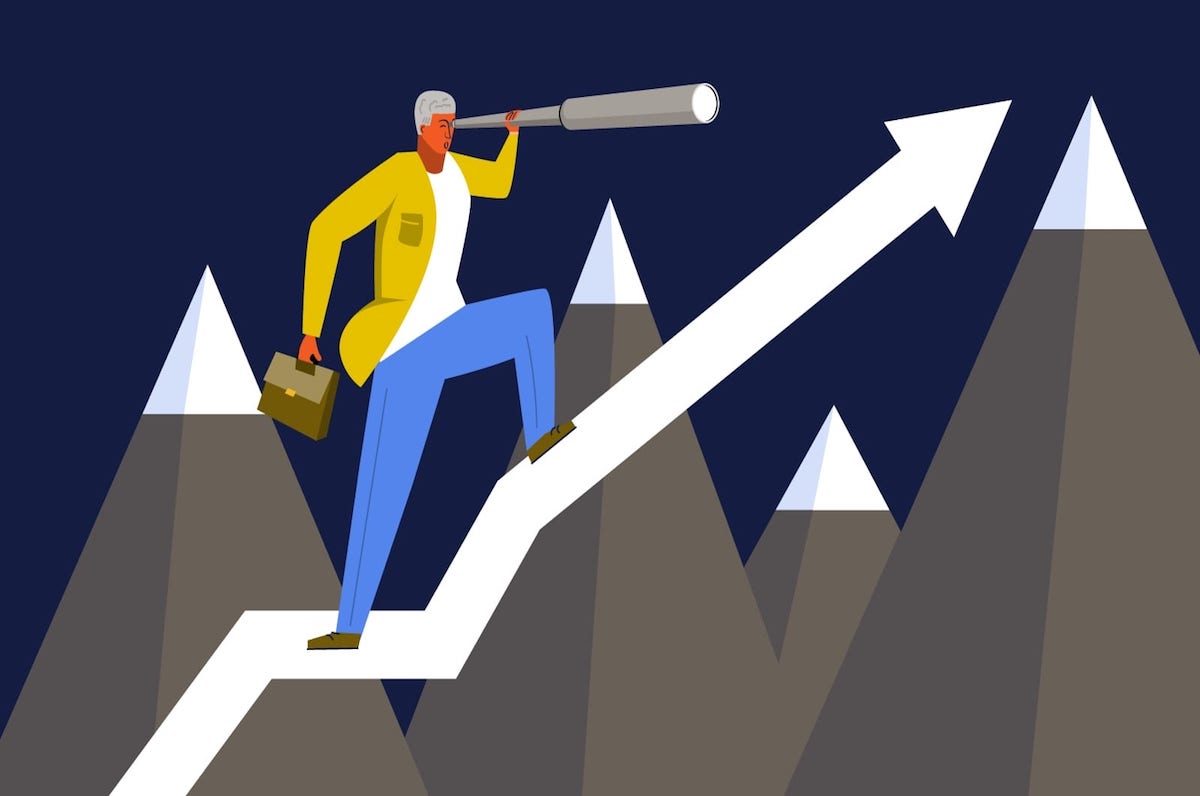 No more guesswork. With Salesforce Campaigns, your marketing team can get a clear picture of the whole funnel
It's no secret that tracking your marketing return on investment (ROI) isn't an exact science. Determining which touch points made THE difference, calculating ever-shifting lifetime values, creating effective feedback loops for sometimes crazy-long deal cycles, and factoring in the more nebulous impact of brand-building efforts… well, it can make even seasoned marketers want to throw up their hands in frustration. Fortunately, Salesforce Sales Cloud has a built-in feature to help you align your marketing efforts with sales: Salesforce Campaigns.
Marketers can use this often-overlooked Salesforce feature to analyze how a specific campaign impacts leads, the company's pipeline, closed deals, and customer lifetime value.
Now, before we dig in, let's clear up some confusion. Salesforce campaigns are NOT campaigns in the sense that many marketers would use the word. You're not going to create a customer journey or workflow using the Salesforce campaign feature. Instead, you should think of them as tags or lists to keep track of sales prospects and customers who have been part of the campaigns you're creating and managing somewhere else, for example through Salesforce Marketing Cloud, Pardot, Hubspot, or any number of other mar-tech tools. The campaigns feature also allows you to quickly view and export contacts for future follow-up or retargeting.
Salesforce campaigns can help your marketing team track which prospects or customers have been targeted through their initiatives. You might use a campaign to keep track of prospects who were part of a particular email nurture campaign, customers who received a loyalty coupon in the mail, or individuals who attended a particular event. You can also group these more granular initiatives under parent campaigns for a big-picture view.
The Campaign Influence tool on the Salesforce opportunity object allows you to select an opportunity and see a list of all the campaigns that influenced the sale. However, to ensure this data is available, you should make sure your sales team always associates key contacts with the opportunities they create. One best practice is to configure your Salesforce org to require "a contact to always be associated with an Opportunity."
Examples of Salesforce Campaigns In Action
Trainings, Webinars, and Workshops
If you have an upcoming training or series of workshops, make sure you're tracking the attendees and re-targeting them for future campaigns. When you set up a training, conference, or webinar, be sure to track who registered, participated, and didn't attend.
Emails
Track the successes of your email campaigns all in one spot. Although Salesforce Campaigns can't physically deliver emails and other messages, they can be used to track which leads and contacts have responded to specific communications. By tracking responses to emails associated with each initiative, your marketing team can tailor each campaign to the type of marketing effort it represents. Additionally, if you've recently attended an event and have a list of emails of potential prospects, you can upload them into Salesforce as Leads and assign them to a Salesforce Campaign titled something like "2020 Industry Event Leads." This allows you to easily find and segment them for future outreach.
Business Development Initiatives
Track the success of new product launches and specific business development initiatives in Salesforce campaigns. This is a great fit if you want to reach out to a segment of new or existing customers to build and strengthen relationships. For example, if you're going to be in New York for a few days and have several targeted accounts you'd like to grow, you can link them to a specific campaign, (i.e. New York Trip Winter 2021). Another use case might be creating a call-down list for your sales team to reach out to prospects with special pricing. Once you've set these structure up, you can use the Campaign Member function to manage any meetings or phone calls associated with this initiative. With this function, you can clearly see the effectiveness of these efforts and track any revenue generated.
How to Set Up a Salesforce Campaign
To get the most benefit from campaigns, it's essential to be strategic when setting them up. First, make sure you have the Marketing User checkbox in your user profile (check with your admin if you need this permission). Then you'll need to set up your campaign.
Click "New" on the Campaigns tab and enter a name for the campaign.
Select your campaign type. Default values are available but you can customize these in your settings.
Choose the status for your campaign and enter an estimated Budget Cost and Expected Revenue.
Enter the description and select save.
That's it! But before you're ready to start tracking your marketing initiatives, it's important to understand how to best organize your campaigns.
One way to keep marketing initiatives organized is through hierarchies. Typically, a three-level hierarchy will help you establish a sense of order with your campaign. The top-level represents an overall focus, while the middle can detail different pieces, and the third level represents individual marketing efforts. This setup allows you to see results for the entire campaign, as well as individual initiatives. The chart below offers an example.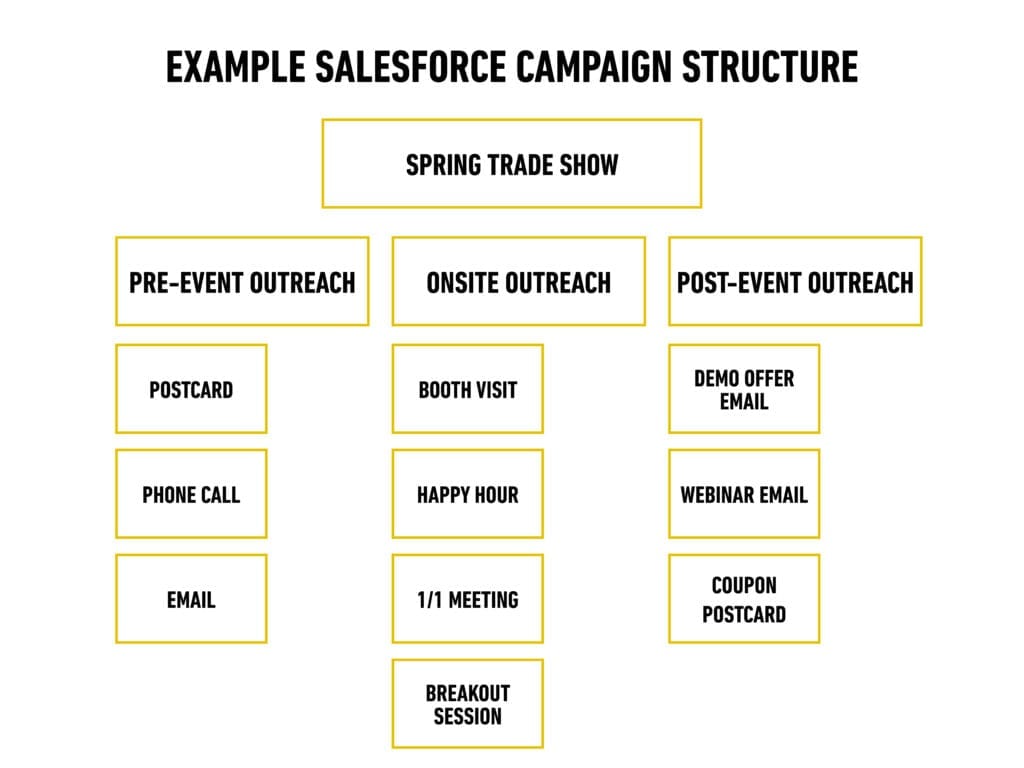 Once your hierarchies are set, it's time to determine which details you want to track with each type of marketing effort. In Salesforce Campaigns, you can create customized campaign records to track emails, events, etc.
A note about lead sources: Lead sources are a valuable dataset to track in Salesforce and Campaigns can help give you previously uncaptured insights. We like to use the lead source value to understand what types of marketing efforts are most effective overall, and the campaign object to drill down into the specifics.
For example, let's say a new lead visits your booth at the "Fall Tradeshow." We'd choose "tradeshow" as our lead source value and be sure to attach them to the "Fall Tradeshow > Booth Visit" campaign. That way, we can run a report to see if tradeshows, on the whole, are more effective than, say, emails. And then we can run campaign reports to see which specific events lead to the most prospects and sales.
Because the lead source field and the campaigns object are designed to work hand-in-hand, it's a good idea to make your lead source picklist values match the picklist values for your campaign types.
How to Report on Salesforce Campaign Performance
The data collected by Campaign Influence is one of the most significant benefits of using Salesforce Campaigns. This allows your marketing team to identify which efforts are successful and phase out others. The reporting feature also helps highlight gaps in the processes,
Built-in campaign reports enable marketers to see the ROI from each campaign, as well as the average ROI and costs for all campaigns. Reports also show whom a campaign is targeting, who has responded, and how much revenue is generated. To access the native reports, go to the "Reports" tab, select "New Report," and then select "Campaigns."
For a list of individuals targeted by a specific campaign, check out the "Campaigns with Contacts" or "Campaigns with Lead" reports. These reports list each campaign and the associated contacts. In the Campaigns with Campaign Members report, marketers get a breakdown of how many campaign members responded to each campaign. In this report, "members" can refer to leads, contacts, and person accounts that added to your campaigns.
You can also view contacts and leads associated with your campaigns in a list view by going to the Campaign object, clicking on the campaign, then clicking "view all" in the campaign members section.
---
The Salesforce Campaign feature can be a real asset for your marketing team. But, if they're already operating at full capacity, one of our Salesforce-certified Virtual Admins can work with your team to help you set up a Salesforce campaign structure and build reports to track ROI!