Top 10 Salesforce AppExchange Apps For Small Businesses

Kelsey Clough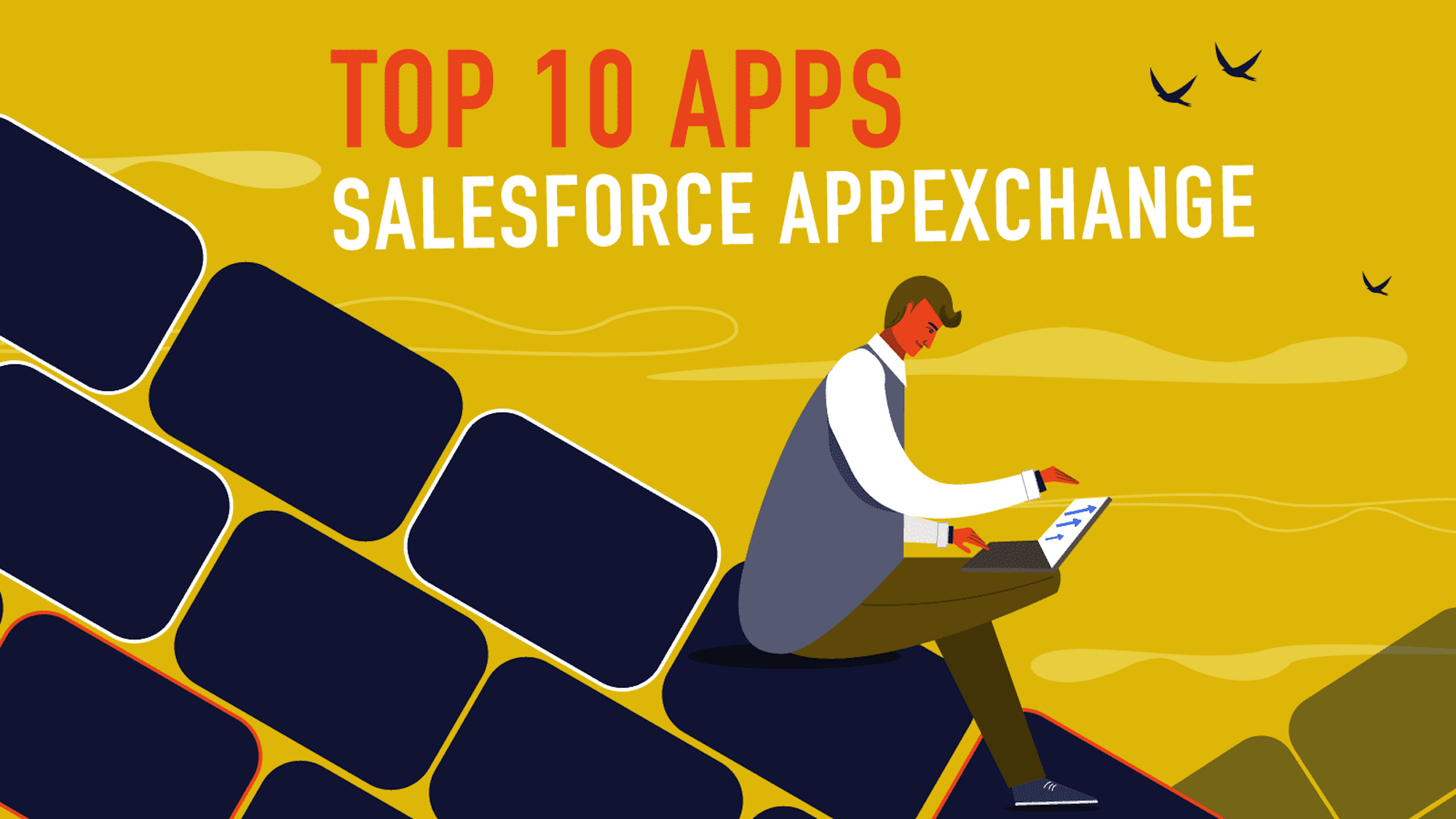 From accounting to networking, these apps help you do it all.
Whether you want to read a book, order groceries, or track your workouts, it seems like there truly is "an app for that." But apps are useful for more than just social media and step tracking. Did you know there's a one-stop-shop for your business app needs too? With Salesforce's AppExchange, you can find the tools to manage — and grow — your small business.
And with thousands of apps to choose from, it's easy to get a little overwhelmed. So we've eliminated some of the guesswork and pulled our favorite Salesforce apps for small businesses. Each of these is readily available through the Salesforce AppExchange and can help you streamline, automate, and generally take control of your day.
Corral Your Data
1. RingLead Field Trip
With 4.5 stars and nearly 250 reviews, RingLead is a tried-and-true option when you need to easily analyze your data — and data gaps. This free app allows you to analyze the overall completeness of your data by reviewing the fields of any object and quickly determining what percentage of your records are empty.
2. Rollup Helper
Rollup Helper allows you to roll up data using clicks — not code. Your resulting data can be used in real-time for your company and results can be used in workflow or validation rules and formula fields. You're able to create intelligent, data-driven workflows and mission-critical reports. In the free edition, you have access to three rollups, thirty pre-canned data filters, and both real-time and scheduled rollup functionality.
3. Duplicate Check
Keep your data clean with Duplicate Check for Salesforce. This free app doesn't require any data transfer and works natively within your system. Duplicate Check finds duplicate records across different objects, which can save your team time and reduce the risk of reaching out to a "new" lead who has already been in your system and engaging with your company. This takes a two-fold approach by finding and merging duplicates and preventing duplication from manual entry, import, and API insert.
4. Mass Edit + Mass Update + Mass Delete
This free app is perfect for when you need to do a lot at once. Mass Edit + Mass Update + Mass Delete allows you to create multiple tasks for multiple Leads, Accounts, Opportunities, and Cases.
---
Looking for a little extra help tackling your data cleanup? Download our free step-by-step guide to cleaning up your Salesforce data.
---
Accounting with Ease
5. Invoices for Salesforce
The good news is, all the information you need to generate an invoice should already be in Salesforce. With this app, the task of bulk invoicing no longer has to loom at the top of your to-do list. The Invoices app automatically pieces the parts together — with no extra re-typing from you! This app starts at $59 USD per month but does offer discounts for nonprofits.
6. QuickBooks Integration
This app provides seamless integration between Salesforce and Quickbooks and lets you easily synchronize accounts, products and invoices, jobs, and so much more. There are three versions of QuickBooks Online and Desktop Integration — including Standard (free trial), Pro, and Enterprise.
7. Timesheets
Timesheets allows you to track both billable and payroll time, as well as job costing and expenses with receipt uploads. There is also the capability to export data to Quickbooks, other payroll or accounting platforms or spreadsheets. The app is free for individuals with the opportunity for a multi-user upgrade.
Manage Your Business
8. Zapier
Zapier connects Salesforce to the web apps you're already using and helps automate your workflow by copying and moving your data for you. With the app, you can trigger a variety of actions based on a single event; create multiple objects in Salesforce at once, or use a single Salesforce event to prompt actions across multiple apps. This app starts at $20 per month and facilitates Salesforce integration with more than 600 different apps, including email, social media, timekeeping, project management and more.
9. Formstack
You can quickly build powerful — and mobile-friendly —forms and surveys to capture leads, contacts, cases, or custom objects with Formstack. You can email or publish your forms without confusing connectors or integrations all while staying in the Salesforce platform.
10. Vision-e Scan
Don't lose another business card! With Vision-e Scan you can quickly scan new contacts into your phone and process them as a contact or lead. This free app is available for iOS and Android.
---
Interested in using any of the apps above, but not sure how to start? Our Admins and Developers can help install or integrate Apps or even build custom applications on the platform.