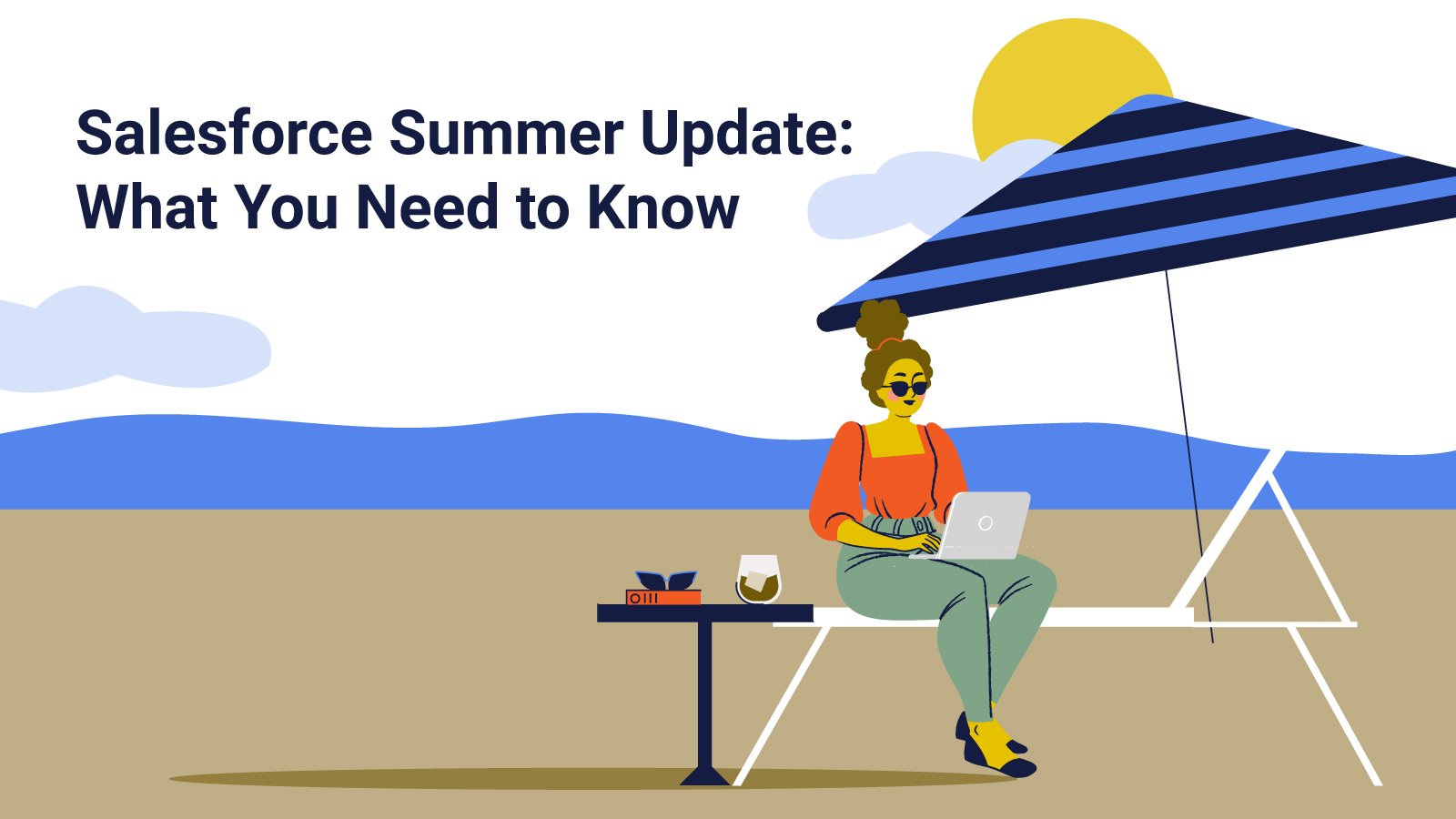 The best new features from the Salesforce Summer 21 update
Salesforce recently launched the Summer 2021 Release with tons of new updates and enhancements. From improvements to reports and dashboards to increased customization, the latest release brings a wide variety of updates for Salesforce users, Admins, and Developers. Here are our favorite releases from the Salesforce Summer Update.
What's New After the Salesforce Summer Update


1. Increase Productivity With Flow Updates
The summer release brought several updates to Flow. Notably, your team can now find failed flows faster through the new Failed Flow Interviews list view. Instead of checking emails to be notified about failed interviews, you can create a custom list view including paused and failed flow interviews. Another improvement is the ability to debug flows with just one button.


2. Explore Inline Editing in Salesforce Reports (Beta)

Now, you can save time — and clicks— keeping your report data clean and up to date with inline editing. If your source data is outdated, simply update text, numeric, or checkbox fields from the report itself. This feature is now available in Lightning Experience in Group, Essentials, Professional, Enterprise, Performance, Unlimited, and Developer Editions.
Before your team can use this feature, contact Salesforce Customer Support to have inline editing turned on. Navigate to the reports and dashboards settings. Then, choose "Enable Inline Editing in Reports (Lightning Experience only)" and save the changes.
Note: Inline editing is a beta feature and is not part of the "Services" detailed in the master subscription agreement with Salesforce.
3. Download Dashboard Images

Gone are the days of using screen capture to get an image of your Salesforce dashboard. Now, you can download a PNG image straight from your dashboard and add it to emails, reports, or presentations. Although this update only works with Lightning Experience, it can be used with Group, Essentials, Professional, Enterprise, Performance, Unlimited, and Developer Editions. To download an image, select the down arrow on the dashboard screen and choose "Download."
---
Need a hand? Our Admins and Developers are here to help you make the most out of Salesforce. Contact us today!
---
4. Improve Page Performance With Custom Lightning Component Analysis
Don't second-guess if a new app is going to work in your Salesforce org. Now, you can get instant insights and analysis about how a new app will work on your page. This analysis includes your page's predicted Experience Page Time (EPT) and provides suggestions for optimizing custom components. This update also only works within the Lightning Experience but is compatible with Group, Essentials, Professional, Enterprise, Performance, Unlimited, and Developer editions. To use this feature, select "Analyze" from the Lightning App Builder Toolbar.
5. Streamline Appointments With Salesforce Scheduler

With the Salesforce Scheduler, your team can now streamline appointment scheduling. Through the update, you have more control and can enable new preferences in the Salesforce Scheduler setting to specify the operating hours that a resource can work on appointment topics. This feature is enabled for all new organizations as a default. For existing customers, make sure you complete the prerequisites before enabling. Once enabled, this cannot be disabled. To enable this feature, use the Quick Find box to search for "Salesforce Scheduler." Then, choose Salesforce Scheduler Settings and enable "Operating Hours for Service Territory Members for Work Type Groups."
6. Increase Efficiency With Improved Search

Through improvements to the search function, users can find records they need more quickly. You can also finish tasks directly from the search results page. Search has expanded to incorporate more Objects, including those in the Financial Services Cloud, Health Cloud, Manufacturing Cloud, etc.
7. Save Time With Mass Actions in Split View

With the new split view option, you can simultaneously act on several records without opening separate lists. Choose items in the split view list in Lightning Experience and apply an action to all selected items while in standard or console view. This update is available in Developer, Enterprise, Essentials, Professional, and Unlimited editions.
---
Looking for assistance implementing any of the Salesforce Summer Updates? Our Virtual Admin program gives you access to an on-call Salesforce-certified administrator for as many hours per month as you need! Contact us to learn more!
Related Articles