Increase Productivity With the Right Salesforce Dashboards

Kelsey Clough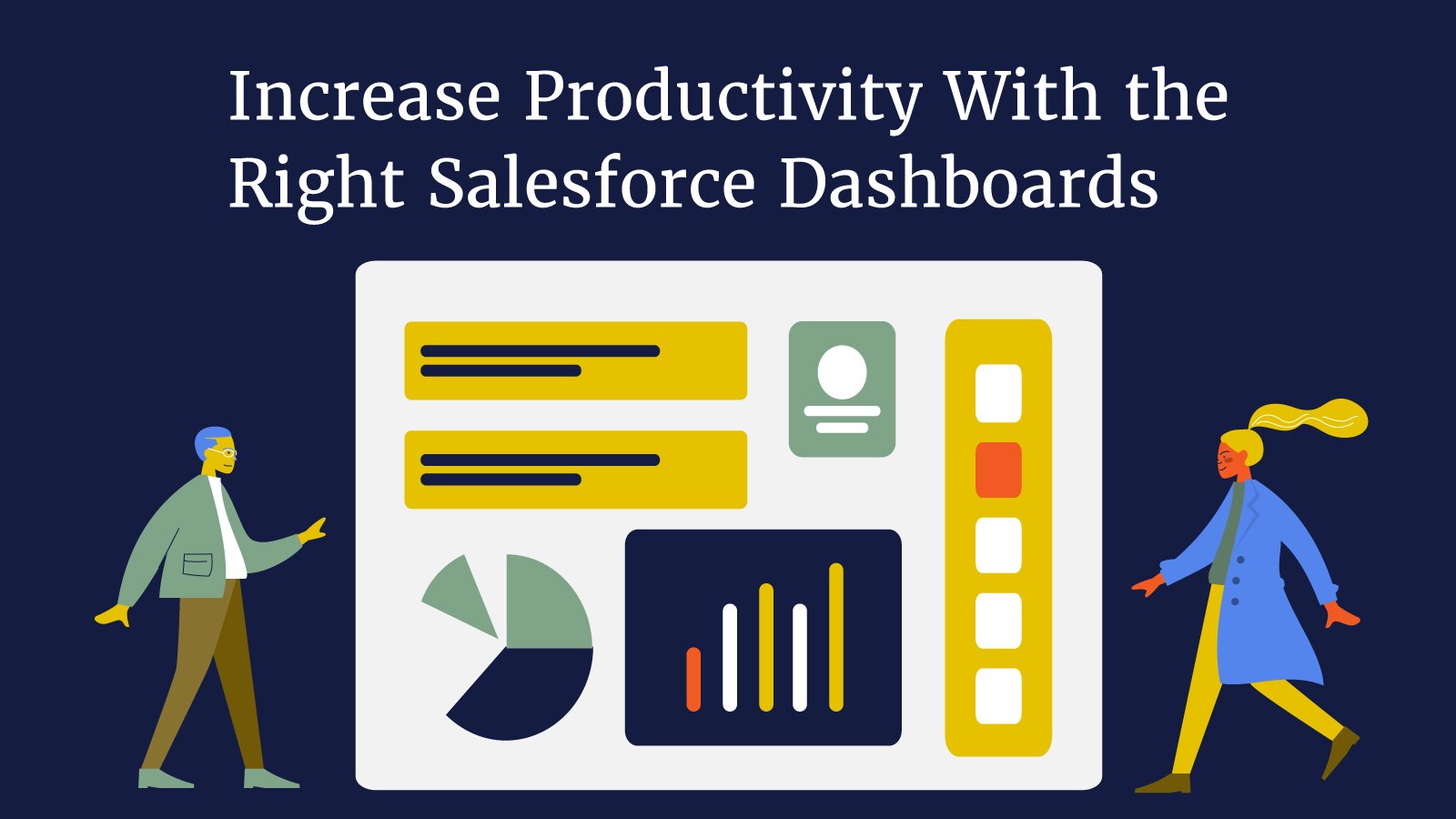 Easily Create Dynamic Salesforce Dashboards
Just like your car dashboard puts critical information about your vehicle at your fingertips, Salesforce has made it easy to get a complete picture of your goals and metrics through Salesforce Dashboards.
And it's easy to share with your team. Dashboards are stored in folders, which helps determine who can access them. If your entire team has access to the folder, they can see the dashboard. However, specific components will be unavailable if your users don't have access to particular reports the dashboard is pulling from.
With the Salesforce Summer 21 Update, you can now download a PNG image from your dashboard and share it with your team.
See also: Salesforce Summer Update: What You Need to Know
Types of Salesforce Dashboards
While your car dashboard only shows you metrics relating directly to your vehicle, a Salesforce dashboard can help you make sense of many different aspects of your business. From sales and marketing to customer service, dashboards help provide deeper insights to your business at-a-glance.
Once you've determined the type of data you need on your dashboard, you can get creative with the way that information is displayed. In Salesforce, you have the following options:
Bar Charts — here, you have the option of selecting either vertical or horizontal charts to compare data.

Line Charts — this is an excellent option for showing data over a period of time.

Funnel Charts — this option works well to showcase sales opportunities.

Scatter Charts — use this option to assist with visualizing the correlation between different values on a report.

Pie or Donut Charts — these options help compare a group of data to the total. The main difference between these two charts is that a donut chart has a hole in the center.


Create Salesforce Dashboards
Before you can share, or even use, your dashboards, you have to create them. First, determine what information is most important to you and your team. Every dashboard you create must have three parts: source reports, filters, and components. Each dashboard component you create pulls from a specific source report and can include up to 20 separate components, giving you a complete picture of your metrics.
Select "New Dashboard" on the dashboard tab, enter a name for your dashboard, a brief description, and select a folder location where it will save. Then select "Create."

Add a component to your dashboard by selecting "+Component." Then select a report or chart type for each component you want to include (such as a chart, gauge, metric, or table.)

Click "+filter" and choose the field you want to filter from the field drop-down list. Select the "Add Filter Value" button to define your values and select "Apply."

Drag and drop the components to organize the flow of your dashboard.

If you need to modify your dashboard settings, select the gear icon to access the dashboard properties menu.