How one young woman is climbing to new heights with a career in tech — and bringing others up with her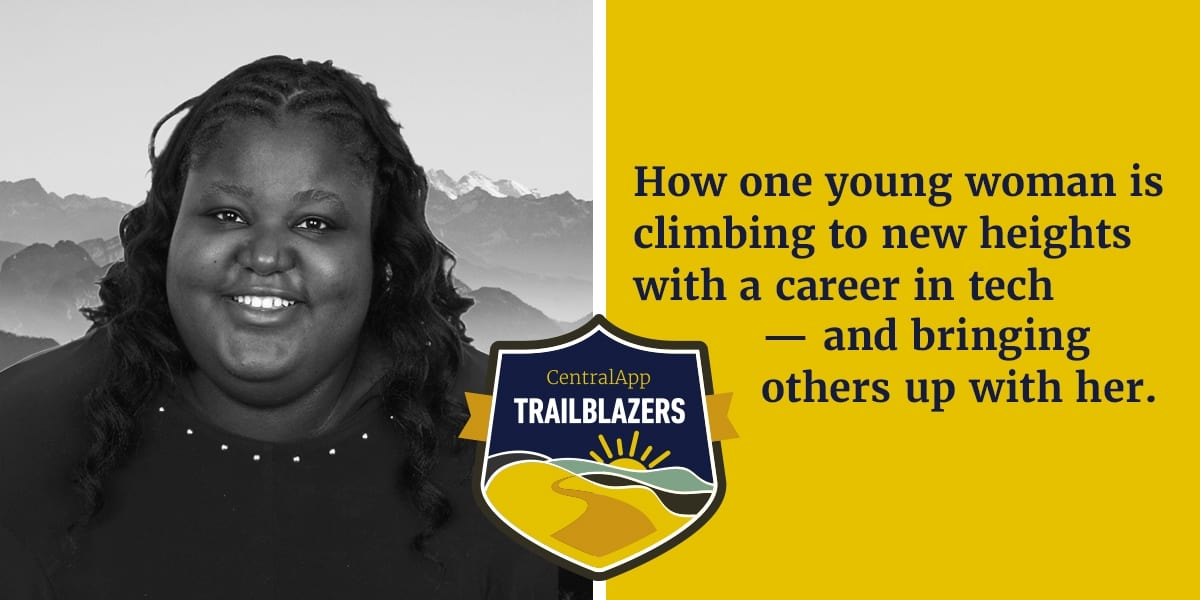 There's a popular quote by Tony Gaskins that reads "Doors open to those who are bold enough to knock."
Marciana Davis is a shining example of the truth and power behind that idea. A 4x Salesforce-certified tech consultant, Marciana has worked hard to teach herself new skills and carve out a career path that will help her accomplish her goals and dreams.
Even more inspiring, she's generous in sharing her knowledge and experiences to help others — especially other women — do the same.
"It's not always easy," Marciana says. "There are still stereotypes against women in this field, and women sometimes need to speak a little louder to be heard. But the Salesforce ecosystem is an incredibly welcoming place. I've found many people willing to be a mentor or lend a hand to someone trying to learn these skills."
Becoming a Salesforce-certified tech consultant
Marciana began her Salesforce journey somewhat accidentally. At the time, she was enrolled in college and pursuing a computer science degree. She was eager to gain as much hands-on experience as she could, so she asked one of her college advisors for guidance. He directed her to a Salesforce bootcamp the college was hosting — and that was all the nudge she needed.
She started learning Salesforce skills online through Salesforce's free e-learning platform, Trailhead, and coordinating local study groups for others who wanted to earn a Salesforce certification. She enrolled in a training program through Pep Up Tech, a nonprofit that helps people from underrepresented communities learn tech skills. And although she hit many hurdles along the way, she never let them stop her.
"One of the best pieces of advice I can give," she said, "is to never accept failure as final. I have failed certification exams. I studied harder and took them again. When I started applying for jobs, I found that most required experience I didn't have. So, I started offering my skills for free to nonprofits to gain real-life experience."
The desire to gain experience and learn is what led her to CentralApp. By joining the CentralApp Talent Exchange, Marciana was able to start working on paid projects under the guidance of more seasoned professionals. That's allowed her to work for big-time clients in spite of the fact that her years of experience are limited.
"I mean, through CentralApp, I'm providing consulting service for MIT," Marciana said. "Never in my wildest dreams did I think I'd get to work with such a high-profile company just starting out in my career."
Where is she now?
Marciana is generous with her time, often serving as a guest speaker for women in tech groups or providing guidance and support to others through online forums. Though she's not one to pat herself on the back, any casual observer can see she's passionate about helping others succeed and committed to helping other people grow.
"As her skills and experiences increase, she takes the time to share what she has learned with others," Todd Cope, CEO of CentralApp said. "She is exactly the type of member we want in the CentralApp Talent Exchange."

When asked how she's managed to build those connections, her advice — like Marciana herself — was straight forward and proactive: "Come with questions and a plan. Don't be afraid to share your goals and dreams and ask for guidance and mentorship. When people see that you're passionate and serious, they are often willing to help you make it happen."
—
To learn more about remote work opportunities in tech, check out the CentralApp Talent Exchange.