CentralApp Trailblazers: Sherry, Making a COVID Career Pivot from Princeton, WV

CentralApp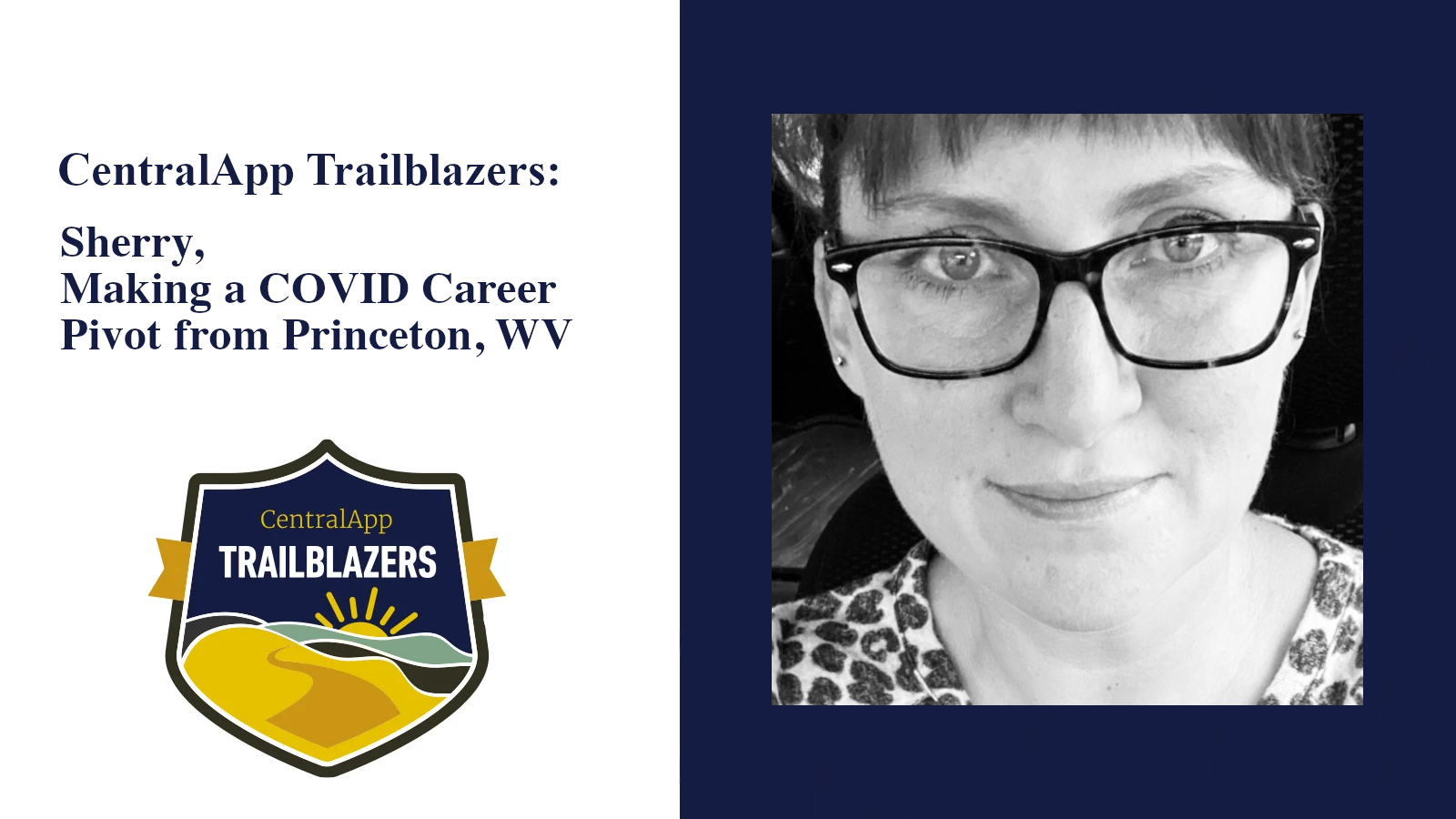 CentralApp Enabled an Office Manager to Become a High Tech Worker in Appalachia
Meet Sherry, a driven individual with over 23 years of experience managing an office in the wood veneer industry. She has been through the ups and downs of the industry, but nothing quite prepared her for the COVID-19 pandemic that hit in 2020. With the majority of her company's sales in the overseas market, the pandemic nearly devastated her small wood veneer company. This led to drastic pay cuts and forced her to think about her career and a change of pace.
Sherry had always been interested in computers, and a family member suggested that she learn Salesforce. Despite not being a computer guru, Sherry was always ready to take on a new challenge. She found CentralApp, a remote work technology company based in Appalachia, and she was able to get into a bootcamp program that CentralApp sponsored to provide Salesforce training and fund her first Salesforce Administrator Exam. Sherry passed her exam in November 2021 and was added to the CentralApp Talent Exchange, where she started out with small projects that helped her gain experience eventually getting a job working remotely with MIT.
One of the best things about working with CentralApp is the ability to work from home. Sherry lives in a rural town that has limited opportunities, but with CentralApp, she was able to work remotely and financially grow in ways that were not previously available to her.
"The opportunity with CentralApp is a blessing because I don't believe I would be where I am without CentralApp giving me a chance and opening doors. Not only the opportunities to learn and grow professionally but also the financial opportunities that just are not available in my area. I live in a very rural town that is a wonderful place to live, but the opportunities here to financially advance are limited. CentralApp has enabled that."
Sherry's story is a testament to the power of hard work, determination, and the opportunities that can be found through remote work. Coming from the wood veneer industry, she was able to learn a new skill and transition to a new career. For anyone looking to make a career change, Sherry's story is a great reminder that it's never too late to learn something new and make a change.
Interested in joining the Talent Exchange as a software administrator or developer? We'd love to hear from you!
To learn more about remote work opportunities in tech, check out the CentralApp Talent Exchange.